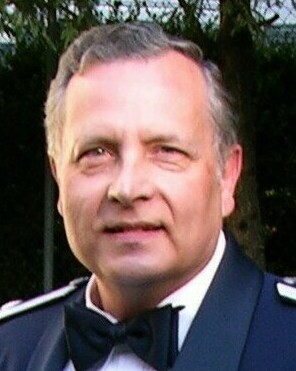 Frank Kirschner
Frank Kirschner began musical performances at the age of 9, and was arranging music for instrumental and choral groups by the age of 10.  He was concert master of his high school concert band and played in the school orchestra and dance band.  While in college at Syracuse University, he played clarinet and saxophone with the concert band, the marching band, the university orchestra, the sight-reading band, and the pep band.
Dr. Kirschner joined the Barbershop Harmony Society in 1974 with the Chorus of the Onondaga in Syracuse, NY.  He was assistant director of the Singing Buckeyes when they competed in International Competition in 1984, and assistant or associate director of several other Society choruses.  He was Chairman of the Judges in Germany's first barbershop contest in Cologne in 1993.
He has performed with the Alte Kameraden German band in Fairfax, VA; the Virginia Grand Military Band; the National Concert Band of America; and the City of Fairfax band.  He has performed at the Beethovensaal of the Stuttgart Liederhalle, the Filene Center at Wolf Trap, and the Kennedy Center Concert Hall.  He is one of a handful of Americans to be awarded honorary membership in the Blassmusik Verband, the German National Association of Wind Bands.
Frank is originally from upstate New York.  He has a Ph. D. in Electrical Engineering from The Ohio State University, and is a retired USAF Lt. Col.  He is married to the lovely and talented Xiao Wei.